Copper Creek
At J&J Quality Door, we offer EVERY product by Copper Creek. Please feel free to contact us on which you prefer. Below is just a sample of great products we offer from Copper Creek.
About Copper Creek Hardware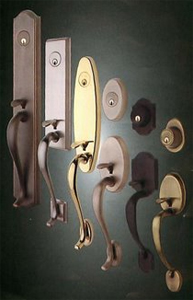 CopperCreek is an exclusively U.S. Brand that brings only the highest quality residential and light commercial locksets and hardware to the new construction industry. Copper Creek blends the independent, innovative thinking and quick market response of a specialty manufacturer with the resources, expertise and industry alliances of the largest security hardware producers in the world. The result? For builders, installers, and their distributors, Copper Creek has The Lock on Excellence.
High-volume production homebuilders. Specialty custom homebuilders. Condominium and apartment developers. Professional remodelers. No matter what your specialization in the residential construction arena, Copper Creek Hardware offers product lines to fit any project scope and any budget.