Kwikset
At J&J Quality Door, we offer EVERY product by Kwikset. Please feel free to contact us on which you prefer. Below is just a sample of great products we offer from Kwikset.
SmartSeries From Kwikset
SmartSeries from Kwikset is a revolutionary new platform of products designed to simplify and enhance the way you utilize security for your home. Groundbreaking advancement in the SmartKey re-key technology allows you to re-key your entry locksets with no locksmith needed. With New SmartCode locks you can control who has access to your home while maintaining superior security.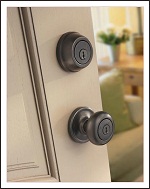 Kwikset SmartKey is an innovative technology that provides the ultimate in convenience and security. It provides the user with the flexibility to re-key locks quickly and easily without removing the locks from the door. Having the ability to re-key your locks at any time is beneficial in a variety of circumstances. If a key is lost, stolen, or unreturned, re-keying the lock will provide peace-of-mind knowing your home is secure. You can also use SmartKey on a variety of doors to allow one-key convenience of the entire home. SmartKey can be re-keyed in three simple steps which are outlined in the included documentation. Along with SmartKey's convenience, it provides maximum security. The lock cylinder offers drill resistance by using two steel balls inserted into the front of the key face. The locks are ANSI Grade 1, the highest available to residential locks. It also has a UL 437 rating, which is the highest lock picking resistant rating a lock can receive.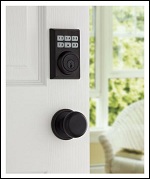 Kwikset SmartCode is the perfect combination of convenience and security. Access to your home is granted by entering your own personal code. Locking the door is even simpler as it only requires one push of a button to trigger the locking mechanism. Codes are easily maintained, and temporary codes can be assigned and deleted as needed. The electronic locking system operates on 4 AA batteries so there is no hard-wiring required. The SmartCode unit has a low-battery indicator, but should the batteries die, the included backup key will operate the lock. Another great feature of SmartCode is the backlit keypad display. This feature forever eliminates the aggravating nighttime search for the correct key to unlock your door. All Kwikset SmartCode locks offer the same exceptional security and robust construction that Kwikset has built its reputation upon.
Kwikset Locks and Deadbolts
Kwikset deadbolts and premiere designer collections are of the many popular products from this leading manufacturer of door locks, knobs and handlesets. The Kwikset Commonwealth collection is a popular French curve with a tear drop lever set. This style is available in a variety of finishes including brass, nickel, chrome, and pewter. The Lido series lever is a similar lever style with a scroll design. These levers are also available in many different finishes to match the interior color of your home. There are many styles on these high quality Kwikset locks and door knobs to add to the elegance of your home.